Car Accident can occur unexpectedly and it always sudden and happen really quickly.
It is very important to stay calm and get help in this situation.
Never take the matter on your own hand.
If you loss your temper then you may doing something that you may never be able to take back.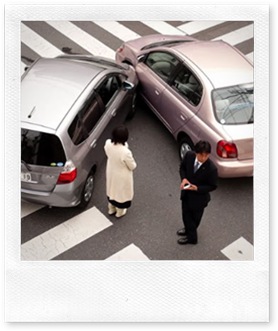 What You Need To Do In The Event of an Unfortunate Accident
1) Be calm, avoid argument or dispute and not to be frantic.
Please check the damage of your own vehicle immediately and also note down the other vehicle's number.
2) If there are any injuries involved, immediately call 999 and call for ambulance or fire engine
3) If no injuries, move your vehicle to a safe area away from the traffic. Remember to turn on the hazard lights to warn oncoming traffic of your position.
" Always avoid argument, dispute or controversy. Instead, politely request for important details."
4) Exchange your respective insurance information i.e Identification Card Number, Car number plate, car make, contact number
5) Do take photos of accident scene, car and  driver (if possible)
6) Should one suffer minor damages, it would be advisable to negotiate for an out of court settlement of the claim with the other party.
Do this only when BOTH parties agree to the amicable settlement.
Upon agreeing to the form of settlement in terms of consideration on cash or repair at workshop, one MUST sign a Discharge Form.
This Discharge Form(two copies) will Discharge both parties from any future implication of liability with regard to this particular incident.
If one chooses to make an own damage claim against their insurance company, he or she must report to the nearest Police station within 24 hours after the accident. failing to do so, the police will issue a summon amounting not more than RM300.00.
Your vehicle need to be inspected and photographs taken by the police.
It is very important to reject the services of tow trucks that arrive uncalled on the scene. They are everywhere and would reached at the accident scene in the split of second!
There are known as 'vultures' by locals, these tow trucks look for accidents and offer to tow the car to their workshop before charging an extremely high rate for their assistance. Always use your insurance company's tow trucks services.
When there is a claim against your or their insurance company then the No Claim Discount(NCD) would be Void.
.
What is NCD?
.
NCD, short for No Claim Discount, is a discount given to the policyholders upon renewal of their motor insurance if no claim is made or arises from the policy for a continuous coverage of twelve  months.
The discount given is based on a fixed rate provided by Persatuan Insurans Am Malaysia (PIAM) Motor Tariff.
.
NCD For Private Car
| | |
| --- | --- |
| Period of Insurance | Discount |
| After the first year of insurance | 25% |
| After the second year of insurance | 30% |
| After the third year of insurance | 38.33% |
| After the fourth year of insurance | 45% |
| After five or more years of insurance | 55% |
.
***Accident Do happen BUT
NEVER Ever Loss your Temper

!

.
Malaysia Car Accident & Street Fight (freeway fight)
.
A minor accident  turns into a messy fight with sticks and shoes in the middle of a busy freeway in Malaysia.