.
Do you know how the banks retain their customers base?
The answer is via Credit Card!
It was ranked as one of the most profitable products for the bank offers as it can  racking up some impressive returns.
Read more about How Lucrative  Credit cards business Is at How to get the Lowest Credit Card Interest Rate in the Country?
Hong Leong Bank has recently launched a new Credit Card called Essential.
It was aggressively marketed in the Media.
You would notice it appear more than One page of the advertisement at The Star newspaper recently.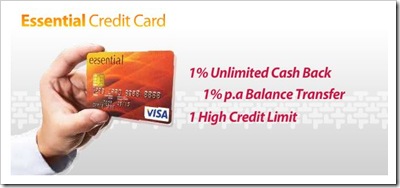 I would say this Hong Leong Bank Essential Credit Card offer Unique and Attractive benefits as shown below:
It offer:
1% Unlimited Cash Back
You will enjoy 1% cash back on your purchases for shopping, dining, travelling or anything else.
There is No Cap(Limit) on how much you can get cash back. Therefore, the more you spend, the more cash back you get.
Definitely a Major Unique Selling Point(USP) of this Credit Card.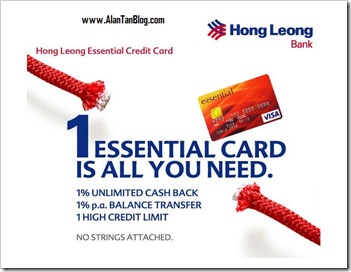 2% Cash Advance Fee
Hong Leong Essential Card also gives you instant access to cash at over 1.5 million Visa ATMs in 200 countries and territories. At a minimal fee of just 2% of the amount advanced, you'll never have to worry about running out of cash.
This Credit Card is backed by VISA International. VISA International is the world's most popular credit card brand that's welcomed by 29 million merchants worldwide.
The cash advance fee is 2% of the amount advanced or a minimum of RM5, whichever is higher. This is imposed for each cash advance transaction. Minimum withdrawal for each cash advance is RM200.
Normally, other's bank Credit Card would charges 5% of the amount withdrawal
10.8% per annum Interest on Cash Advance
You can enjoy even more savings each time you make a cash advance with your Hong Leong Essential Credit Card because you're entitled to an exclusive low rate of 10.8% per annum.
On top of that, you can also draw cash up to 70% of your card limit!
10.8 % per annum of the outstanding amount calculated on a daily basis from transaction date until full repayment date.
Normally, other's bank Credit Card would charges 18% per annum on Cash Advance
Conditional Free-For-Life
As long as you use your Hong Leong Essential Credit Card twice a month(24 swipes per annum) or spend RM8,000 a year, you'll be rewarded with the peace of mind knowing that there won't be any annual fees to pay.
You'll continue to enjoy all the benefits that come with being a card member free of charge for life.
– 1% per annum Balance Transfer
– 1 Higher Credit Limit
– 1% per annum Flexi Payment Plan
Requirement and Eligibility
Minimum annual income of RM30,000
Copy of I/C (both sides)
Copy of other bank's credit card (both sides)
Even though this Credit Card offer a Great benefit, I would think twice before getting a new cards in view of the RM50 service tax impose on each principal Credit Card by January next year
Read more about RM50 Service Tax for Card Holders | Cancel your Credit Card Now! and Maybank Announcement On RM50 Credit Card and Charge Card Service Tax
By the way, Would You get this Hong Leong Essential Credit Card?
.
Feel free to leave a comment below!