Unifi is an amalgamation of "Uni" which denotes togetherness and camaraderie, while "Fi" symbolises fibre optics
TM UniFi -Residential Packages
.
5mbps – RM149 (60GB monthly cap)
10mbps – RM 199 (90GB monthly cap)
20mbps – RM249 (120GB monthly cap)
The data plans come bundled with a 22-channel IPTV service, free calls to TM numbers and free broadband equipment worth RM800 but all subscribers will however have to commit to a 24-month contract.
Comparatively, look like TM's UniFi is MORE Expensive than SingTel-Singapore!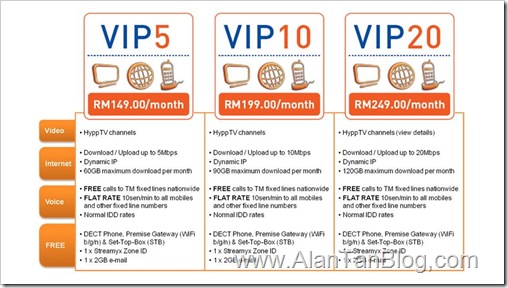 .
TM UniFi –
Business Packages
.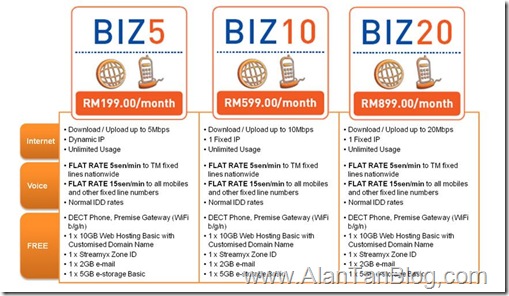 I hope All TM Unifi user will get  a richer, faster and more reliable online experience!:-)
Read about TM High Speed Broadband Service| HSBB | UniFi
.
TM HSBB TV Commercial-Unifi
.
,
.
TM HSBB Launched by PM – Cheap access for poor students
.
RM1bil initiative to provide schoolchildren from poor households with Internet-enabled netbook computers and promote high-speed broadband usage. Prime Minister Datuk Seri Najib Tun Razak announced the National Broadband Initiative at the Dataran Merdeka in Kuala Lumpur on Wednesday night.
.
F.A.Q-TM Unifi
.
1) What is UniFi?
UniFi heralds a new age of digital lifestyle with a faster, richer and more reliable online experience. UniFi is a bundled triple play service offering High Speed Internet, HyppTV (IPTV) and Voice. More information can be found in tm.com.my.
2) What is the UniFi package offering?
UniFi is offering 3 residential and 3 business packages.
For residential  VIP5 is RM149 a month, VIP10 is RM199 a month and VIP20 is RM249 a month. Each package comes with voice, different Internet speeds and either a basic or premium HyppTV subscription.
For businesses, BIZ5 is RM199 a month, BIZ10  is RM599 a month and BIZ20 is RM899 a month.
Each package comes with attractive call plans, different Internet speeds and a host of complimentary services.
3) What is the difference between TM IPTV and other satellite TV operators?
TM IPTV is different from other satellite TV operators in that it is transmitted via a broadband network. This gives you added benefits such as not being susceptible to bad weather, as well as fast Internet access via IPTV. Being a broadband platform, you can also expect other IP-based services in the future.
TM IPTV also differs in term of the pricing model, which is an On-Demand approach, which means you pay only for the channels, movies or series you want to watch, rather than pay for the whole package, with no extra monthly fees involved.
In addition, the service delivers Series on Demand such as, CSI past season/Hollywood Premiere, which gives local viewers exciting and extraordinary content.
4) How can UniFi benefit me?
You will be able to experience the highest speed connection available in the market and this will enable you to tap into many services such as online games, downloadable rich content, virtual interaction (video calls) and an enriched shopping experience (rich multimedia virtual shopping, real time merchant tips). UniFi provides more stable and reliable connections to ensure a premium customer experience.
5) How do I check service availability in my area?
You can check service availability by calling TM UniFi Centre at 1-300-88-1222 or visiting selected 6 TMpoint outlets currently in the HSBB areas: Taipan Subang Jaya, Damansara Utama, Menara TM, Jalan Raja Chulan, Shah Alam and Bangsar.
6) How do I subscribe to UniFi?
Interested parties can register their interest for UniFi at TM's website www.tm.com.my, call TM UniFi Centre at 1300 88 1222, or visit selected 6 TMpoint outlets currently in the HSBB coverage areas: Taipan Subang Jaya, Damansara Utama, Menara TM, Jalan Raja Chulan, Shah Alam and Bangsar.
7) What are the charges like – installation fee, hardware rental, contract duration, etc?
There will be an initial promotion, waiving charges for standard installations and activations worth RM300. In addition, the standard package is inclusive of equipment worth RM800 that will be given free-of-charge to customers. No deposit will be imposed. Only monthly subscription fees for UniFi packages will apply. Telephony usage charges and any purchase of value added services will be charged separately. For more details, please visit www.tm.com.my . The duration of standard contracts is 24 months.
8) How long is the expected installation waiting period for new subscribers?
We will be informing new subscribers of the expected waiting period for their specific case. In the first few months of operations, TM will be adjusting its resources to cope with the demand for UniFi.
9) How long does a typical physical installation and testing take?
The expected installation and testing will take approximately 4 to 8 hrs depending on the type of premises and the sensitive nature and complexity of fibre installations. An installation involves a site survey, ducting, piping, electrical work and equipment configuration.
10) Does TM allow customers to appoint their own contractor to perform internal wiring?
Because TM is ultimately responsible to ensure that the highest quality of service is delivered to customers, we will not allow unaccredited contractors to perform the installation of the service. Only TM or its appointed agents can install the fibre at the customer premise. That said, some customers will want to do additional enhancements in the internal wiring and they might opt to use additional third parties for this. But as TM, we need to ensure that the service is working properly upon our installation and with very high quality.
11) Does UniFi have a Fair Usage Policy (FUP)? Does the FUP differ across packages?
Yes, UniFi packages are subject to Fair Usage Policy. FUP is a standard global practice to ensure that a good quality of experience is provided to all customers. UniFi packages for consumers (not businesses) come with a volume-based allocation and monthly download volume is capped. However, the FUP will not impact customers who do not exhibit abusive usage behavior, and will not impact the delivery of IPTV and value added services.
Source from TM UniFi